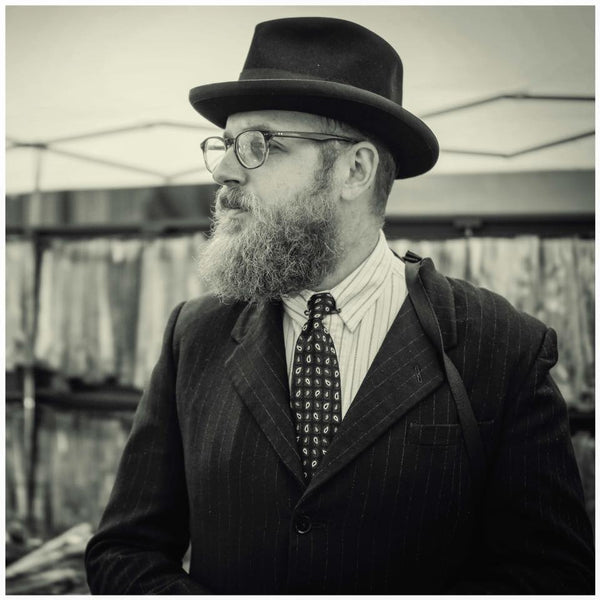 About
"I have always had a passion for vintage clothing and have taken a keen interest in the clothes I wear myself, having collected vintage clothes for many years it was apparant that menswear was not catered for as well as womenswear in shops and fairs, what was available was often shabbily presented at the end of rails - it was a natural choice for me to turn what I love into a business and create a shopping experience for men that is a cut above the rest .... and so froggy went courting was established! 
I'm enchanted by the hunt for old hidden treasures of the past and bringing them to life again and finding them new homes.
The 1920s 30s and 40s are the periods of style I am most absorbed by. I find the clothing styles within these periods to be incredibly stylish and beautifully cut to complement the figure which is not seen in modern day menswear as much.
Our stock Ranges from suits, shirts, coats, scarves, cravats, braces, hats, caps, gloves, umbrellas, luggage and much more.
We specialise in 1940's ties - British and American and at any one time we have over 1000 in stock, So if you have something specific in mind do let us know and we will do our best to find it for you.
As froggy has grown it became apparant that certain items were getting increasingly hard to find - the hardest being caps, leather end braces and high waisted knitware. We decided to take the huge leap and create our own brand of British made reproduction clothing and accessories made from exceptionally high quality materials.
We studied the original patterns and worked together with manufacturers to get as close to the original garments as possible.
we hope you enjoy looking through the website, if you have any questions do not hesitate to ask 
- Andrew Lawes-Brown (Froggy Went Courting)